ActiveImage Protector Tray Icon
The ActiveImage Protector tray icon

located on the start bar provides a quick and easy menu to start a backup, view the status of current or completed tasks, check for software updates and launching ActiveImage Protector. Hovering over the icon displays a progress bar of the active running task.
vStandby tasks are not supported.
IT Pro Edition does not provide this feature.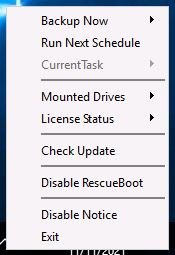 Backup Now
Using a specific profile for a predefined schedule, you can start a backup task.

Run Next Schedule Start the next scheduled backup task.

Current Task Pause, Stop or Adjust the I/O Performance of an active running task. If no task is running, the option is grayed out.

Mounted Drives Display a list of backup images mounted as drives.

License Status Displays current license status. If running a live trial, remaining days until trial expiration is displayed. An activation link is provided.

Setting Enable or disable display of menu options Backup Now, Pause Task, Stop Task and GUI.

Check Update Access Activation Server and checks for current product software updates.

Disable / Enable RescueBoot Disable or enable RescueBoot.

Disable / Enable Notice
Disable or enable notification of current product software update if available.

End Tray Icon is closed.

Even when ending Tray Icon, Tray Icon starts upon system restart.